Snom D120 Phone
Snom D120 available to buy from £49.73
The Snom D120 provides a simple but effective entry-level VoIP solution. Designed for large installations in areas such as hospitality or healthcare, it offers users an easy-to-use, reliable device with exceptional audio quality.
Featuring a low price point, it is an ideal option for those looking for a minimalist phone that still provides the necessary qualities. Features the D120 have include, hearing aid compatibility (HAC), a back-lit graphical display and 4 context sensitive keys and 5 function keys.
132 x 64 pixel back-lit graphical display
4 context-sensitive keys & 5 function keys
2 x 10/100 Mbps Ethernet Switch (RJ45)
PoE support (PSU available separately)
Supports up to 2 SIP accounts
Wideband hands-free talking (speakerphone)
360 degree call/message indicator
Single position footstand 35°
Intuitive user-friendly menu
Digital Signal Processor (DSP) enhanced audio quality
3-way conference on the phone
Local directory with 250 entries
Wall mountable
Colour: Black
Supplied with a 3 year manufacturer's warranty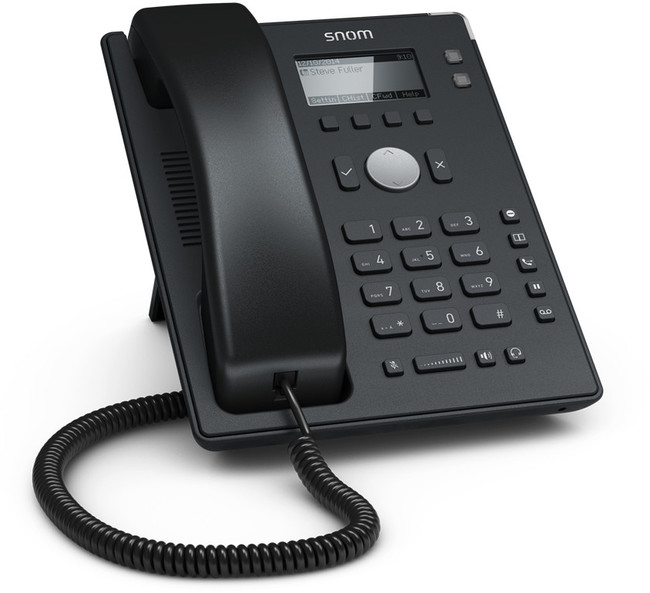 For full details goto www.snomphones.co.uk
Back to Snom Phone category
What's in the box
D120 phone
Handset
Curly cord
Desktop stand
To buy this model Snom phone. Please complete the form.
Alternatively, Call our sales team on 0115 824 5600.